WELCOME TO OUR SMOKE - N - GUNS
WEBSITE
Longest family owned and operated, best customer service, old time gun store in the Verde Valley!
Come in and check out our upgraded store remodel!
Need Ammo? We are now actually overstocked and have so...... many hard to find calibers on hand along with a selection of
9MM as well as 380, 357, 38 Special and so many more calibers! So stop on in and check out all the new guns comming in weekly, targets, holsters and of course AMMO!
Now is the time of the year for our

annual

"Neighbor helping Neighbor"
S
ALE
.
Each year with a

in store

donation to the
"OLD TOWN MISSION,"
we host a special sale to
benefit
our neighbors!
From November 9th - December 31st
ALL

Gun's, "New and Used" are on sale from 5%-10% off listed price. (Excludes consignment firearms.)
All

Ammo and shooting supplies 10% off, and t

his year we have added a special bonus!!!!
With every donation you will receive a free raffle ticket to win our GForce 12 GA shotgun!!!!
(Winner will need to pass a

background

check.)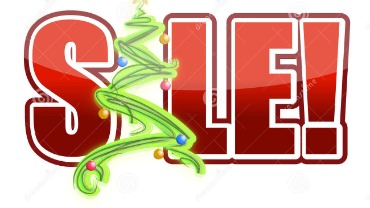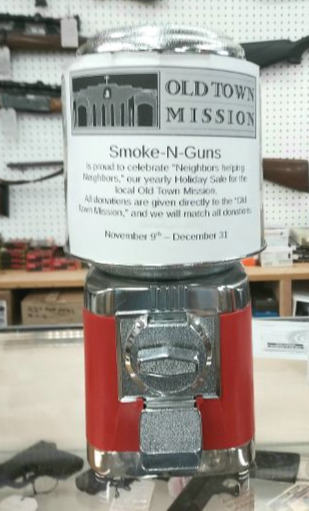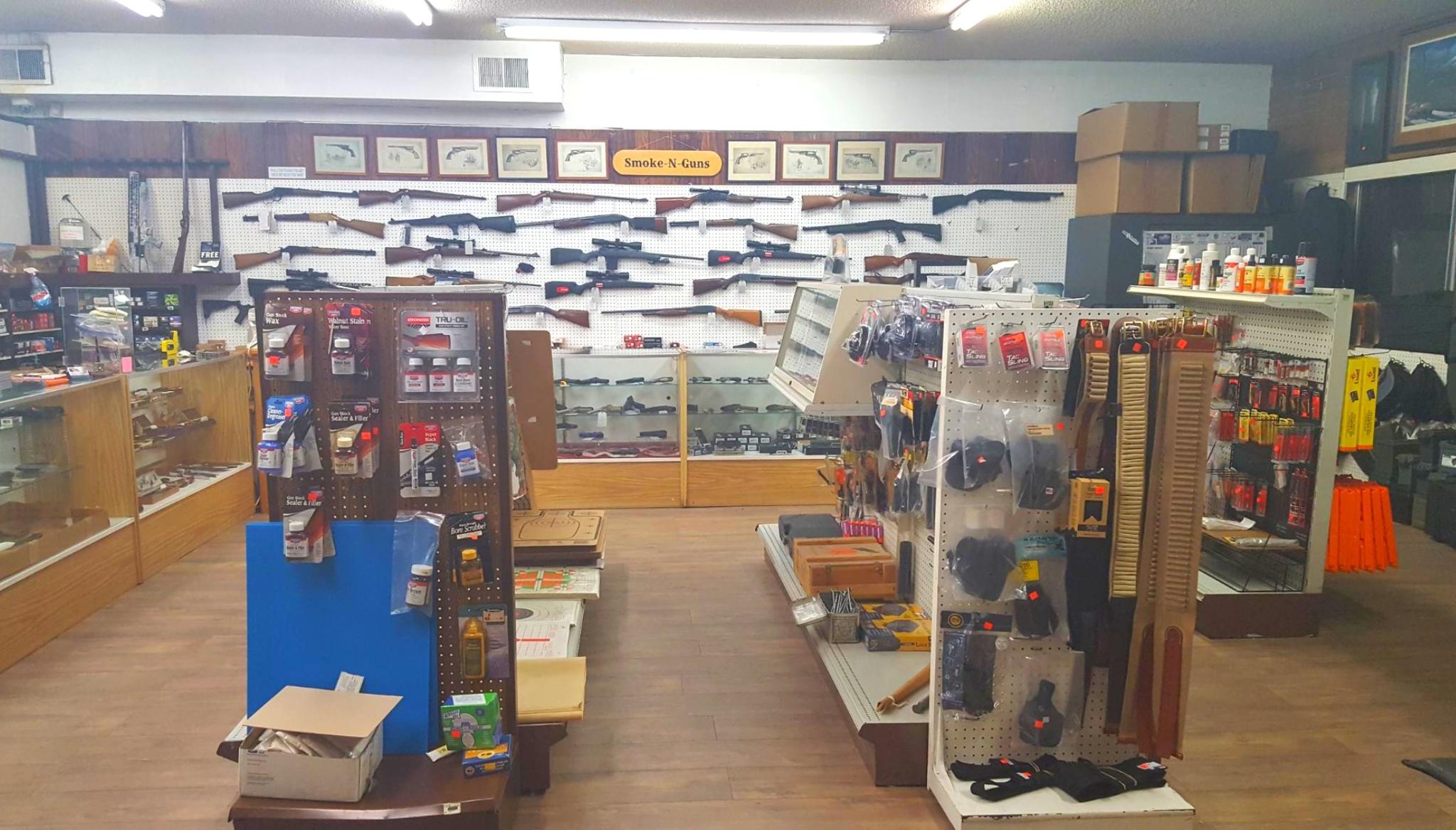 New and used guns are arriving weekly!!!!!! They are in and out so quickly that we ask that you come in or please call for availability.
Ammo and shooting accessories are moving quickly too so shop soon. We still don't sell online so come in and browse, as we just might have what your looking for!
Check out our new selection of antiques and jewelry! We have remodeled the whole store!
Just clink a link to see a sampling of our guns and goods!
---
Offered Services at SMOKE - N - GUNS
Estate Estimates
Sometimes we are left with guns or knives from a loved one. Here at Smoke - N - Guns we can help with identifying your items whether old or new. If you find yourself in need of a appraisal quote stop in and ask as we can help. We have many options to help you get the best money for your collection.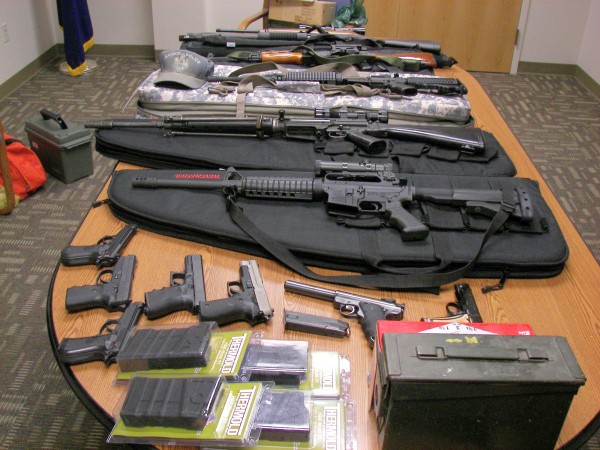 Loved the owners of this place , very knowledgeable and they have stories that will go on for hours. Lots of cool things to look at when you go in. Kind of a wild west gun shop.
Brenda "Erzulie" B.
While Smoke n Guns does not price match WalMart or Big 5, it is an old style gun store and Perry is more knowledgeable than most at Walmart or Big 5.
Unlike WalMart they do not refuse to sell something because it is not politically correct.

Reed M.
I have bought and sold with Smoke-n-guns for years. I have had great experiences with all transactions. .
Dennis Scheall
BIG ED SAYS BLOG
Here at the store sometimes we get asked whether it is worth buying a new gun rather than a good looking used gun. There is never a one answer fits all to that question. As I…
January 12, 2020
"Big Ed" and I just wish to welcome you all to our new blog for Smoke-N-Guns. The "Big Ed" blog features educational and entertaining articles covering a variety of topics…
September 23, 2019
Sunday and Monday Closed

Tue 9:30 am - 5:00 pm

Wed 9:30 am - 5:00 pm

Thu 9:30 am - 5:00 pm

Fri 9:30 am - 5:00 pm

Sat 9:30 am - 5:00 pm
Phone: (928) 634-3216
Smoke - N - Guns
322 South Main Street
Cottonwood, AZ
86326
CONTACT US
---
Drop Us a Line!
Or better yet,
feel free to visit during normal business hours.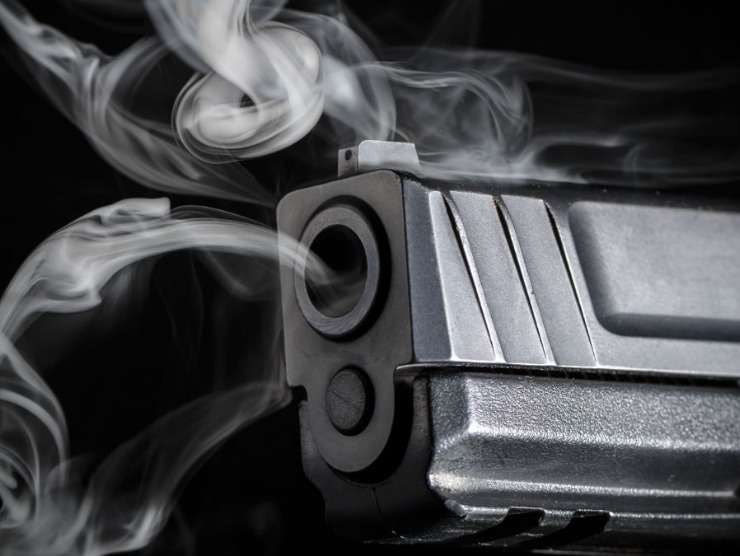 Smoke N- Guns - Perry Conrad rest in peace!
Perry owned and operated Smoke-N-Guns for over 20 years in the same location.
He was interested in firearms for over 60 years and bought his first .22 caliber Mossberg at age 10 with money he earned from his paper route and working in his mothers restaurant. His early training was shortly after purchasing the rifle. The training was offered at the American Legion by former Marines who gave beginning classes in the Legion hall. They used the dance floor with targets and backstops under the stage.
Perry has participated in competition shooting in the past and has been a firearms safety trainer and shooting instructor with N.R.A. range master credentials along with other certifications.
Perry was always willing to give information about your firearms with regard to what it is and the current value both retail and wholesale if desired.
Smoke-N-Guns will no longer special order as Perry has passed away, but his wife will continue on for as always as our main focus is still customer service.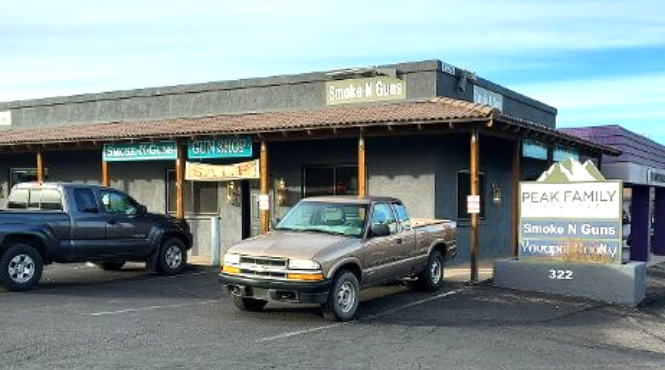 History
Established in 1999.
Smoke-N-Guns has a revolving selection of new and used firearms, the best selection of ammunition in the Verde Valley as well as anything you need for the shooting sport.
If what you want is not in stock we will happily try to order it for you from one of our many distributors.
We buy firearms from one to entire collections and we will always give you an honest appraisal of your items value whether you intend to sell it or not.
Bring in Gramp's old firearm just to see what it's worth today.
We want our customers to feel like family and that they were treated as good or better than anywhere else they have ever shopped.
We look forward to helping our community in any way we can and always try to contribute in whatever way we are able.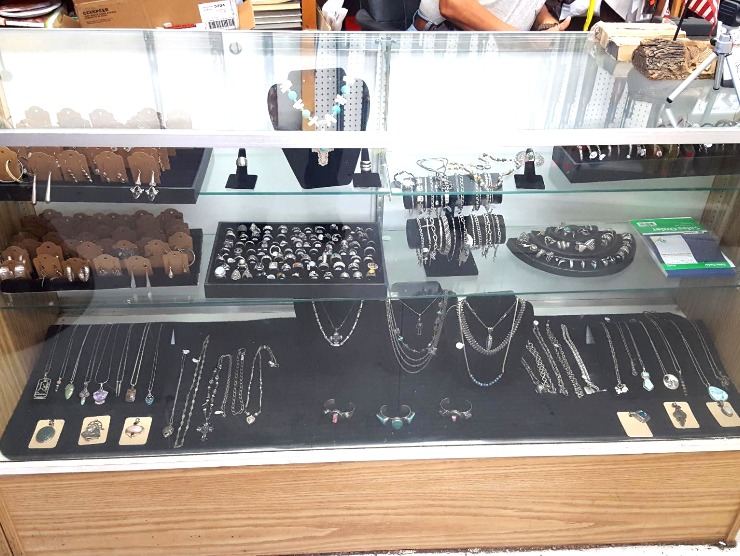 Not just your everyday gun store!
Smoke -N - Guns now carries a large selections of vintage & estate gold and silver jewelry and unique antiques. Here you will find a great selection of vintage, Native American and other era pieces ranging from the 40's through the 90's. We are no longer offering cigars but we are OFFERING SOME UNIQUE SMOKING
AND VINTAGE ANTIQUES!
So if you haven't checked us out lately, stop in and discover a new treasure always at a reasonable price.